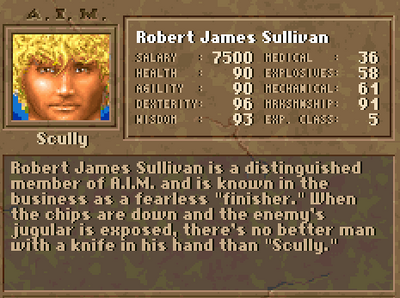 Robert James Sullivan aka "Scully" is a mercenary hireable from A.I.M., and arguably a distinguishable staple of the series.
A.I.M. Dossier
| | |
| --- | --- |
| | "Robert James Sullivan is a distinguished member of A.I.M. and is known in the business as a fearless "finisher". When the chips are down and the enemy's jugular is exposed, there's no better man with a knife in his hand than "Scully"." |
Equipment
Edit
Jagged Alliance 2
Edit
A.I.M. Dossier
| | |
| --- | --- |
| | "The amiable Scully Sullivan is a long-time A.I.M. member. He's one of our most distinguished mercenaries and perhaps the most respected among his peers. Scully holds the A.I.M. record for the highest number of combat engagements in almost as many different countries. Need someone to snap the last breath from an enemy? Then Sullivan's your man. Scully is well-known for his skills with a bladed weapon." |
Additional info
Edit
Scully is a super friendly guy. He's been married eight times and has twenty one kids.
Though British, he has a out-going demeanor easily mistaken for Australian. His cockney accent, tanned complexion and propensity to call people "mate" doesn't help.
Deadly, yet exhibits no fascination for gore.
We are told, over and over, that Scully is well known for his skill with blades.
He likely holds the record for combat engagements in Jagged Alliance 2 now due to the departure of his old friend Mike.
Equipment
Edit
Jagged Alliance and Deadly Games
Edit
"Once you get things really under way down there, I'll consider joining." - initial refusal to hire
"You can ask around, I always get the job done. Done right!" - On call
"Allow me to give you a tip. You don't want to be anywhere near Kaboom when he's cleaning his gun." - On call
"Bollocks!" - enemy spotted / action failed
"I've got a ready-to-bag unfriendly over here." - enemy spotted, unaware
"All clear! Sector's friendly" - sector clear
Jagged Alliance 2
Edit
"Robert James Sullivan is not here at the moment... Oh, sorry mate, I thought it was someone else, Scully here.", "I ask one thing mate. Don't let my problems with the women get you questioning my loyalty, because THAT you can bank on. I am just a really... sociable guy." - on call
"Surely, mate, you'll want to consider the savings on a steady gig?", "Sure... I could use some time away from here." - hiring
"You've reached the home of Robert James Sullivan. If you're calling about hiring one of the best mercenaries in the business, leave a message." - answering machine
"Its good to get away once in a while and meet some new mates."
"I'm working with a good bunch of mates."
"Zoo's out, mate!" - Bloodcat spotted
"Word's filtered back,mate. You ain't the type of boss I'm looking for. Maybe some of the new,more desperate guys can help you out". - refuse to join
"I dont want to point any fingers,mate,but someone's had their hand in the cookie jar." - shipment stolen
Relationships
Edit
Is Liked by
Edit
Is Disliked by
Edit