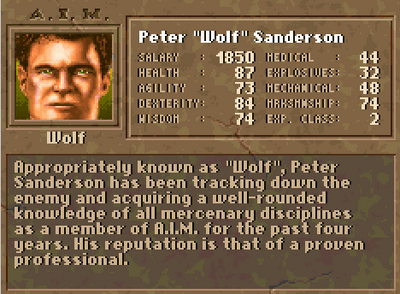 Appearances: Jagged Alliance, Jagged Alliance: Deadly Games, Jagged Alliance 2, Jagged Alliance 2: Unfinished Business, Jagged Alliance 2: Wildfire, Jagged Alliance: Back in Action.
A mercenary in the Jagged Alliance series, available from A.I.M.
Biography
"Appropriately known as "Wolf", Peter Sanderson has been tracking down the enemy and acquiring a well-rounded knowledge of all mercenary disciplines as a member of A.I.M. over the past four years. His reputation is that of a proven professional." - A.I.M. Dossier, Jagged Alliance
"Peter Sanderson just returned from a six-month absence. He booked off on personal leave to take an intensive physical training program and various other courses to top-off his status as a jack-of-all-trades. Having lost over forty pounds, he's in the best shape he has ever been in and A.I.M., as a result, has gladly renewed his membership.
Additional info: When not on assignment, Sanderson instructs a Wolverine Civil Defense unit during the evenings." - A.I.M. Dossier, Jagged Alliance 2
Additional Info
Just a solid guy to have around. For his price tag and skill set he's a great addition to almost any team. Wolf does prefer the life of a loner though, and will do better if no other merc is close by.
Equipment
Jagged Alliance 2
Back In Action
Skills
v1.13
Teaching
Night Ops
Bodybuilding
Quotes
Jagged Alliance and Deadly Games
"I'll be there in the morning, and then we'll see what that madman is made of!" - hiring
"I could toast this unfriendly without any trouble." - spotted a unaware enemy
"Hiring me would be a smart choice. And that's my objective opinion." - On call
"That Gus Tarballs is one military hard-nose, isn't he?" - On call
"That fast talker must have started nipping early in the morning again. He just about gave away the stuff." - Successfully haggle the price
Jagged Alliance 2
"Nobody does anything like I do." - on call
"What kinda timeframe did ya have in mind?", "Can't wait to get there!" - hiring
"This is Wolf. You'll have to talk to my machine." - answering machine
"Hold up, hold up! That does not look too convincing to me. Dangerous, but not convincing." - trap detected
"Lovely! Just, freaking lovely!" - gory death/rotting corpse
"That's all of them. Nothing left here but funerals." - sector clear
"What's this?" when finding item
"Got something here" when finding item
"Now you're like your sex life: cold, dead and lying in the bed you made." after killing Doreen Harrows
Relationships
Likes
Liked by
Dislikes
Disliked by
Notes
A well-rounded jack-of-all-trades, calling Wolf the "Mario" of A.I.M. would not be a stretch.
Wolf is a well-liked mercenary and seems to be quite the team player.
Also appears to have a relationship with Fox which is on more-than-friendly terms.
He also has a good working relationship with Lynx.
Wolf is voiced by Voice Director Shaun Lyng, along with Bill "Razor" Lamont.
Community content is available under
CC-BY-SA
unless otherwise noted.