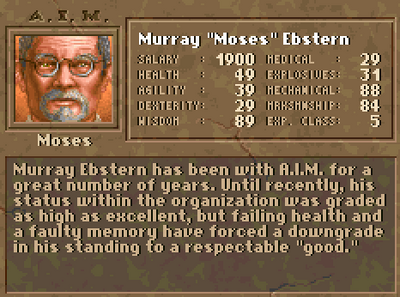 Appearances: Jagged Alliance, Jagged Alliance: Deadly Games . Nonplayable and an alum in Jagged Alliance 2 .
Biography
"Murray Ebstern has been with A.I.M. for a great number of years. Until recently, his status within the organization was graded as high as excellent, but failing health and a faulty memory have forced a downgrade in his standing to a respectable ""good"."" - Jagged Alliance
"Opting to take part in A.I.M.'s early retirement package offered to mercenaries over fifty, Moses decided it was time to move on and into a new line of work. Investing his severance, Moses opened a restaurant on the main. After just two short years in the business, Murray's has established a reputation for serving the best smoked meat in New Delhi." - Jagged Alliance 2 Alumni Gallery
Relationships
Likes
Is Liked by
Dislikes
Is Disliked by
Additional information
Old and forgetful, will stop in the middle of the action and need a reminder about what his orders were, costing AP.
Several stats start high but will begin to degrade as days/missions pass.
Quotes
"I got a full squads' worth of experience under my hood, junior." - On call
"I can't tell you how much I miss the old days, junior... There was only fifteen of us working for A.I.M., and we always had work." - On call
Community content is available under
CC-BY-SA
unless otherwise noted.