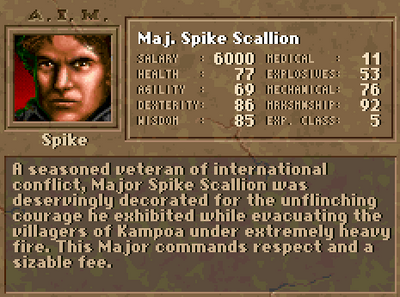 Appearances: Jagged Alliance , Jagged Alliance: Deadly Games . Nonplayable and an alum in Jagged Alliance 2.
Biography
"A seasoned veteran of international conflict, Major Spike Scallion was deservingly decorated for the unflinching courage he exhibited while evacuating the villagers of Kampoa under extremely heavy fire. This major commands respect and a sizeable fee." - Jagged Alliance
"The departure of Spike Scallion from A.I.M. was a major loss to the organization. His demeanour and unwavering command of any situation always served as a comfort for those who found themselves neck deep in it alongside him. Major Scallion was offered a lucrative long-term contract serving as a military consultant for the North Koreans and no amount of negotiation could convince him to stay." - Jagged Alliance 2 Alumni gallery
Inventory
Jagged Alliance
Deadly Games
Relationships
Likes
Is Liked by
Dislikes
Is Disliked by
Additional Info
Much cheaper in Deadly Games, dropping from 6000/day to 3900/mission.
Quotes
"It's good to hear from ya! But, you'll have to show me what you're made of, boy, if I'm going to think about working for you!" - Initial refusal to hire
"Spike Scallion is the name. Filling people with holes is my game, boy." - On call
"How ya doing, boy?" - On call
" Oh ya...no more lining up to get examined by Bernie!" - Ordered to shoot Dr. Bernie Gloveless
Community content is available under
CC-BY-SA
unless otherwise noted.