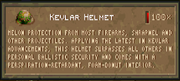 Kevlar Helmet is a head protection found in Jagged Alliance and Jagged Alliance 2.
Description

"Melon protection from most firearms, shrapnel and other projectiles. Using the latest in kevlar advancements, this helmet surpasses all others in personal security and comes with a perspiration-retardant, foam-donut interior." - Jagged Alliance: Deadly Games
"The Personal Armor System Ground Troops Helmet is made from Kevlar, with a comfortable suspension system, sweatband and chin strap. It also extends further over the ear and neck than standard helmets." - Jagged Alliance 2
The second type of head protection found in both games, the Kevlar Helmet offers slightly greater protection than its predecessor, the Steel Helmet.
Locations
Jagged Alliance
Can be found inside crates sometimes.
A few mercs at A.I.M comes with them.
Jagged Alliance 2
Found in various lockers, chests, etc.
Can be bought through Bobby Ray's website after a few days.
Can be dropped by mid and high-level enemy soldiers.
Notes
Jagged Alliance
The Kevlar Helmet provies twice as much protection than the basic Helmet and is much rarer. Very good to put on more valuable mercs to prevent major damage and wisdom loss.
In perfect conditions, it offers a protection of 10%, which drops alongside its condition.
Kevlar Helmet can be treated with Compound 17 to improve its protection by 5%, resulting in the Trt. Kevlar Helmet

"Through the miracle of Compound 17 technology, this Treated Kevlar Helmet now offers the possibility of added assurance and melon protection from projectile penetration." - Trt. Kevlar Helmet description in Jagged Alliance: Deadly Games
Jagged Alliance 2
Kevlar Helmet + Goggles
A helmet available in Jagged Alliance: Back in Action.
​See Also
External links
Community content is available under
CC-BY-SA
unless otherwise noted.