Jurassic World: Dominion Dominates Fandom Wikis - The Loop
Play Sound

"It is like our work is unfinished."
This article or section is a stub. You can help Jagged Alliance Wiki by expanding it and adding more information to it.

Jagged Alliance: Back in Action (previously known as Jagged Alliance 2: Reloaded) is a tactical role-playing game developed by Coreplay GmbH. It is a remake of Jagged Alliance 2. It was announced on August 20th, 2010 and was released on February 9th, 2012.
According to the publisher, the game is "a totally revamped version of Jagged Alliance 2 and Back in Action will address the weak points of it". The user interface has been redesigned and gameplay features 3D graphics in an isometric perspective. And unlike the original games, a full-fledged tutorial is available for new players.
Storyline
From the official website:
"Jagged Alliance: Back in Action takes you to a fictitious country called Arulco: a ruthless dictator has seized absolute power and only a small group of rebels are still able to resist the tyranny. You command the rebels and the best mercenaries in the world are fighting on your side, provided you keep your troops supplied with plenty of cash and morale! You will require diplomatic skill and nerves of steel to win against the reign of terror."
Gameplay
Unlike the original game, Back in Action uses a combat system called "Plan & Go", which combines RTS gameplay with turn-based elements.
"The biggest improvement (outside of the new 3D engine and modern graphics) is that the game can either be played in a new RTS style mode, or the turn based system from the first game, or a hybrid of the two. The hybrid mode shifts from real time to turn based on criteria specified by the player. For example you can play in real time mode until you discover a mine or come across a bad guy. From there you can then switch into the game's "Plan and Go" combat system. This mode is that you can key actions of your team together which brings out the real strength of the system.

For example, let's say you want to have one guys sneak up behind a bad guy and cut his throat but then have a sniper ready to take him out if he fails. Well you setup the actions of the first guy along a timeline along the bottom and then when you have the kill action taking place you can have the sniper take the shot at exactly the same point in the timeline. If you've ever programmed Flash it's very similar to the Flash timeline in execution and it's something that gamers should be able to pick up pretty quickly. You can also do fun things like having your squad move into position and then open fire simultaneously or whatever you heart desires.

The laptop interface from the original is back but not all of the weapons from the original will be back due to licensing issues (though there will be replacements that are nearly identical). The game will get all new voice over work from the stars of the original which ensures that one of the highlights from the first game comes back from the second."
—Impression about the game, on Gaming Nexus[2]
Version
System requirements
Minimum
OS: Windows XP (SP2), Vista or Windows 7
Processor: Core 2 Duo Processor (1,8 GHz or better) or similar AMD
Memory: 2 GB RAM
Hard Disk Space: 3GB HDD Space
Video Card: Shader 3.0 compatible graphics card (ATi 2600, GeForce 8800 or similar) with 512 MB RAM
Sound: DirectX Compatible Sound Card
Recommended
Processor: i5 Processor (2,4 GHz or better) or similar AMD
Memory: 4 GB RAM or more
Video Card: Shader 3.0 compatible graphics card (ATi 5850 and GeForce 460 or better) with 768 MB RAM
Quests
List of quests in Back in Action
Locations
List of locations in Back in Action
Characters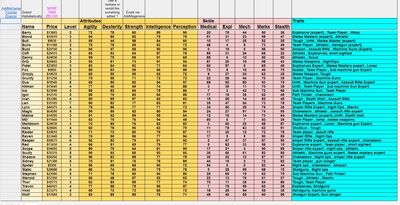 Here is a large database with all of the data from the game. Whatever you are in need of, go and check those tables and you will likely find answers to your questions.
Google database for Jagged Alliance: Back in Action These values are updated to version 1.3
Items
List of items in Jagged Alliance: Back in Action
Music
The in-game music is quite motivating - creating a unique atmosphere and fitting the game very well. It exudes a sense of strength and confidence when you are facing your enemies on the map.
Note: If you are looking for different music, there is a mod called "Ultimate AIM-Professionals" which gives alternative music for this game. Finnbat´s mod shop
Downloadable content
Steam exclusive
People who pre-purchased Jagged Alliance: Back in Action on Steam have received an exclusive DLC, the Urban Specialist Kit, and three Genuine items for Team Fortress 2.
Specialist Kits
Along the exclusive Urban Specialist Kit are 3 other similar Specialist Kits available for purchase:
Add-ons
Two add-ons have been released for Back in Action, each one giving a new mission to play:
Point Blank

Shades of Red
Media
Screenshots
Artwork
Logos
Videos
Reception
The critical reception was mixed at best, with armchairempire.com saying "Jagged Alliance: Back In Action is, and probably will for many years hence be, the definitive textbook example of how to mess up by the numbers when attempting to "relaunch" a classic franchise." Even Finnish Pelit magazine, in one of the most positive reviews internationally, stated "Back in Action is not a bad game, but pales in comparison to its father."
External links
References