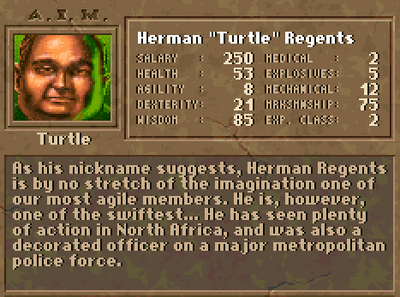 Appearances: Jagged Alliance. Nonplayable and an alum in Jagged Alliance 2.
Biography
"As his nickname suggests, Herman Regents is by no stretch of the imagination one of our most agile members. He is, however, one of the swiftest... He has seen plenty of action in North Africa, and was also a decorated officer on a major metropolitan police force." - Jagged Alliance
"Perhaps, Turtles departure is best explained by an excerpt from his letter of resignation. "The pace of combat has become too much for me. I have been forced to run the beat rather than walk it. I have exhausted all avenues and find myself short of alternatives, other than to cough up my resignation effective immediately." Last we heard, Herman was working in Chicago as a probation officer." - Jagged Alliance 2 Alumni gallery
Additional info
Has a bit of a sweet-tooth.
A decent marksman, but heinously, heinously slow.
high wisdom means he can improve skills rapidly.
Equipment
Jagged Alliance
Deadly Games
Relationships
Likes
Is Liked by
Dislikes
Is Disliked by
Quotes
"Ya... I'll go! Tell me... Does Metavira have a bakery yet?" - On hire
"HEY. ...its all *muscle*." - When male merc uses hand icon on him
"How fast do ya gotta be to shoot people?" - On call
"Ya know... I would really prefer to be called Herman, or Sergeant Detective Regents. Not there's anything ya can do about it." - On call
"Danger may be my business, but since I've been here, I'm no longer comfortable with dying as the bottom line! I have to get out!" - treat to quit, high casualties
"I never have seen Mike so hot! I'm stunned... Have you been bought? Do you get cash problems? Or did you pop a fuse? No matter. I am out of here!" - fire Mike unfair while having Turtle on your team
"Ya know... If I killed Mike, nobody would ever call me slow again." - order to shoot Mike
"The almighty Mike is dead?" - witness Mike's dead
Community content is available under
CC-BY-SA
unless otherwise noted.