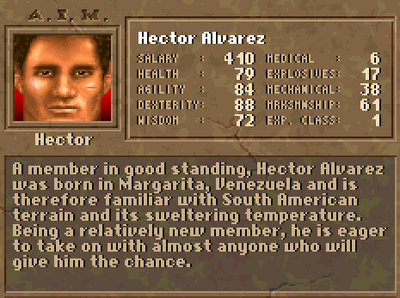 Appearances: Jagged Alliance and Jagged Alliance: Deadly Games . Nonplayable and an AIM alum in Jagged Alliance 2 .
Biography
"A member in good standing, Hector Alvarez was born in Margarita, Venezuela and is therefore familiar with South American terrain and its sweltering temperature. Being a relatively new member, he is eager to take on with almost anyone who will give him the chance." - Jagged Alliance
"Seriously wounded in Zaire, Hector Alvarez was placed on permanent medical disability. Using his insurance money, he opened an oceanside bed and breakfast in his hometown of Margarita, Venezuela. With prices starting at $49.99 US per day, his "Cool hand Luke - All the eggs you can consume" breakfasts have become a huge hit with the German tourists." - Jagged Alliance 2 Alumni gallery
Equipment
Jagged Alliance
Deadly Games
Additional info
Has the hidden "heat resistant" trait. His breath meter goes down much slower from normal movement, and is not as affected by the heat waves that regularly pass through Metavira in the first game.
A family man according to Hamous, who cites this alongside several reasons for being unhappy about shooting him if ordered to do so.
Seriously dislikes Smoke's "practical jokes".
Relationships
Likes
Liked by
Dislikes
Disliked by
Quotes
"Yes! I want dis very much!" - On Hire
"Dis be best price I make you." - On call, Deadly Games
"When you want go to Margarita, I got cousin Juan, he fix everything. Best price!" - On Call